Last Updated on May 12, 2023 by AIFS Abroad
Meet Maddy, a college student from Scotland who recently completed an AIFS Abroad internship program in the heart of New York City during Summer 2022. We heard from Maddy about her experience interning in one of the most vibrant cities in the world. Read on to hear more about how she prepared for her international internship, the skills she gained, tips and tricks she picked up along the way, and more!
Through her unique perspective, we hope to give you a glimpse into what it's like to do an internship program in New York City.
Tell us a bit about you.
Hello! I'm Maddy and I'm originally from a tiny island in Scotland, but now study Digital Design in the country's capital — Edinburgh. I interned at a film production company in New York City in Summer 2022. It was the most incredible experience in my favourite city in the world!
What was the first day or week of your internship like?
I was very nervous my first day, but the excitement quickly took over. The culture shock, along with starting a new job, was daunting and at times I really did wonder, "what on earth am I doing here?", but that quickly goes away. My advice to anyone starting a summer internship would be to expect that imposter syndrome or culture shock, I promise you it will pass. You deserve this just as much as anyone and you will get through it! Nail your first morning and make it exciting – a takeaway coffee, your favourite outfit, calling a loved one for some advice. And, if you're like me, an upbeat Taylor Swift playlist for the walk there!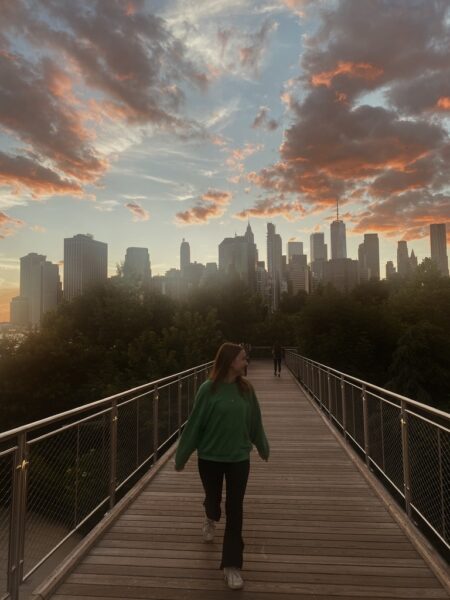 What questions would say were important to ask before you left for your internship, when you met your employer, or during your internship?
Pre-internship, find out what the work attire is so you can pack accordingly. When you meet your employer, as awkward as you may feel, ask about your break times — but don't let it be your first question! You want them to know you're grateful to be there!
What skills did you learn that during your summer internship program in New York City?
My confidence in myself and independence grew immeasurably during my summer in New York. That first night in your accommodation when you realize it's really happening is a moment you will never forget. Try and brand any loneliness as independence, you finally did it!
I also learned how to take initiative in the workplace. Sometimes you might feel like you have nothing to do, so you need to ask! Your employer will be so impressed if they see you doing this.
What is important to do when building a professional relationship with your host company?
Like I've said, make sure they know you want to be there! I did this a lot during my internship. I asked so many questions, would offer to help with anything, and always stay if they needed me for a couple extra hours. Don't be pushed around to a silly extent, but if view yourself as valuable to the company, they will too!
What is your biggest advice for future interns?
Fight that imposter syndrome, it will come, and more importantly it will go. [It] will be like nothing else you ever experience, this is what you're going to tell your grandchildren about! Take loads of photos, make friends with as many people as you can, get out into the city as a non-tourist and you will have an incredible time.
Best pizza place in NYC?
Hands down Little Italy Pizza III near Union Square, it's so cheap and SO good. If you're wanting pizza by the New York skyline though, Grimaldi's in Dumbo is the only option. Trust me.
Best app to use when traveling?
If you're in New York, download Notify NYC! It'll tell you of any thunderstorms, subway delays, or anything else going on in the city that's important. Anywhere though, Google Maps! It's so obvious but so essential.
What's one thing you would suggest an intern in New York City not forget to pack?
If you're in New York City, earbuds are a must. I stayed beside the Brooklyn Bridge and barely slept until I invested in them. For inevitable homesickness (that will get better!), take some print out pictures of your family, friends or pets.
Best weekend trip?
After NYC, I went on a trip round Washington, DC and Boston. DC is closer and is very, very cool – so you need to go there! I also went to the Hamptons for a shoot while at my internship and would recommend. You might even spot a celebrity!
Ready to find your career abroad?
Doing an international internship is your opportunity to try something new, learn experientially, gain work experience, earn academic credit, see the world, and develop lifelong relationships. With opportunities to intern abroad in over 15 cities around the world and in over 40 different career fields, you'll have plenty of options to build your resume while having the experience of a lifetime.