As Americans, we tend to think Thanksgiving is unique to the United States — and in many ways it is — but its traditions often resemble those of harvest festivals, which occur in many countries and cultures around the world in some form. Though the time of year and crops are different in each country, each holiday features feasts, family and fun, and gratefulness for a fruitful harvest.
If you're studying or interning abroad, make sure you take advantage of your host region's harvest festivals — here are just a few around the world: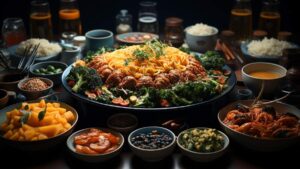 1. South Korea – Chuseok
This harvest festival takes place on the 15th day of the 8th month of the lunar calendar on the full moon. In other words, it happens on a different day every year, but generally it takes place somewhere between September and October. During Chuseok, Koreans return to their hometowns, don their best hanbok (traditional dress) and participate in what's known as Charye. In this ancestorial memorial rite, families spend hours preparing a feast. Everything on the table is arranged very particularly, with rice and soup placed on the north side, fruits and vegetables on the south, meat dishes on the west and in the middle, and songpyeon (rice cakes) to the east.
Pro-tip: Spend your summer or fall semester in Seoul, South Korea with AIFS Abroad for the chance to experience Chuseok for yourself!
2. Germany and Austria – Erntedankfest Düsseldorf-Urdenbach
One might assume that Oktoberfest is Germany and Austria's harvest festival, but no, Erntedankfest is a whole separate excuse to celebrate! This days-long event takes place in early October and adheres to a rigid schedule, starting with mass on Friday. On Sunday, there's a concert where onlookers eat "oaf on a spit" (beef or pork cooked rotisserie-style), followed by a parade and finally the Schürreskarrenrenne (wheelbarrow race). Monday is the time to bust out the Blotschenball (clogs) and dance. Can you and your partner dance well enough to be crowned Blotschenkönigspaar (royal clogs couple)?
Pro-tip: Spend your fall semester in Berlin, Germany or Salzburg, Austria with AIFS Abroad for the chance to experience Erntedankfest for yourself!
3. Argentina – Fiesta Nacional de la Vendimia
Argentina is renowned for its wine, shipping Malbec and Cabernet Sauvignon all over the world. It would make sense then that their harvest festival is grape based. The celebration of Fiesta Nacional de la Vendimia takes place in the Mendoza region in February. It begins with the blessing of the fruit, naturally. Then there's the Vía Blanca de las Reinas, where women parade the streets driving chariots. Next is the Carrusel Vendimial where the men have their parade, also on chariots. It all culminates in "Acto Central" where over 1,000 performers delight the crowds with traditional folklore and music. No chariots here, but it does end in spectacular fireworks show!
Pro-tip: Spend your spring semester in Buenos Aires, Argentina with AIFS Abroad for the chance to experience Fiesta Nacional de la Vendimia for yourself!
United Kingdom – Guldize
If you were to guess what crop Cornish people of southern United Kingdom celebrate for their harvest festival, there's an obvious answer, but you'd be wrong. Guldize celebrates the region's wheat harvest in late September. To begin the festivities, a farmer performs the ritual of Crying the Neck, where they hold up the final handful of wheat while a crowd chants a series of calls. The neck of the wheat is then made into a "Corn dolly," which houses the spirit of the wheat until the next harvest. Then, they feast on fuggans (fruit pastries) and cider while singing old Cornish songs throughout the night.
Pro-tip: Spend your fall semester in places like London, England or Edinburgh, Scotland with AIFS Abroad for the chance to experience Guldize for yourself!
Feast upon the cultures of amazing global destinations.
One of the best ways to learn about a country's culture is through their food. So, if you're studying or interning abroad, be sure to visit your one of the many harvest festivals around the world!